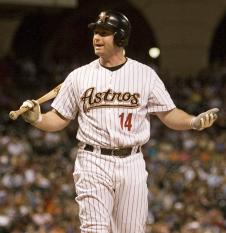 The former Astros' third baseman has a blog and some pretty interesting insights about Barry Zito plunking Prince Fielder — Ensberg lists his own rules for hitting a guy — as well as the strike zone.  Here's Ensberg after noting that Bud Selig is against automating the calling of balls and strikes because he likes "the human element":
Yeah whatever dude.  Getting booed sucks.  It ripped my heart in
half to hear the fans in Houston boo me.  As a result I no longer
concentrated on the game and instead concentrated on not getting
booed.   That was too much heat for me and I buckled.  The same thing
will happen to the umpires.

Umpires have a really difficult job.  You may think it is easy to
call a ball or a strike, but you don't see what Major League pitchers
can do with the ball.  Major League catchers can frame a ball that
makes an umpire look like they missed it. You don't probably consider
that the camera is "off-set".   But in the end, it is the heat of the
fans, managers, and players that causes that strike zone to expand.

Prediction: Technology will cause the strike zone to shrink at first and we may see
an increase in offensive production.  After a year of that, the strike
zone will expand to its intended definition and pitchers will finally
get to throw a high strike.
I think what he means by the zone shrinking if things get automated is that pitchers will not get the corner calls they're used to, while simultaneously being afraid to throw what is a textbook — and presumably computer-judged high strike — at first, but that they'll soon adjust and start working up the ladder the way your old man's favorite pitchers used to do in the 60s and 70s.  Interesting thought, and something I'd like to see.
More generally, I like to see ballplayers and former ballplayers like Ensberg speaking directly to the public like this.  As I'll note later this morning, there is something deeply artificial and unilluminating about the reporter-ballplayer dynamic, what with all the cliches and mistrust and everything.  I don't figure we'll see a lot of ballplayers saying "whatever, dude" to Bud Selig, but the more of these guys who let loose in the blogosphere and on Twitter, the more we'll learn so much more about this here game we love.