Anyone who spends any time in the comments around here knows Old Gator.  He of the "Feesh," "Macondo," and the "horse meat and Velveeta sandwiches."  I know he's not everyone's cup of tea, but as commenters go I love him. He's smart. He stirs up trouble. He throws bombs once in a while.  All kinds of great fun.  He also lives in Miami, so we arranged to meet up when I landed on Saturday.
Gator suggested a Cuban place near Little Havana. Good suggestion!  I had the ropa vieja and picked from a bunch of appetizers he ordered in Spanish.  I sometimes like to think that I can roughly follow people speaking Spanish, but I really can't. At least when Cuban accents are involved and the Spanish speakers in question aren't slowing it down for the dumb people from Ohio who aren't exposed to it every day.  First thing Gator said to me when I sat down? "How's it feel being in a foreign land?"  My answer: I like it, actually. At the risk of sounding all free-to-be-you-and-me about it, anyplace that doesn't have some freakin' diversity to it gets pretty boring pretty fast.  I don't think I'd live in Little Havana if I moved to Miami some day, but I like that it's there and lament just how homogeneous the Midwest can be.
After a couple hours of coffee, baseball talk, and Gator telling me three truly, truly awesome jokes that would get me fired in five seconds if I shared them here, I followed him a couple of miles east into the heart of Little Havana, where he wanted to show me something (the above pic is what it looks like to follow Old Gator through traffic).  The site where Jeffrey Loria's monument to himself — the new Marlins' ballpark — is being built.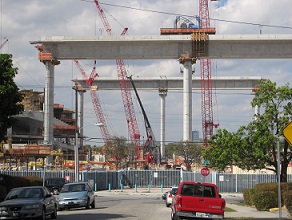 The overwhelming impression I got from it?  If anyone actually shows up to that ballpark, the traffic is going to be a nightmare.  It's really right in the middle of — or at least on the edge of — a neighborhood consisting of small blocks, side streets, houses and two-story apartment buildings. Unlike other neighborhood ballparks like Yankee Stadium and Wrigley Field, there is no mass transit to speak of.  There's a freeway that runs nearby, but it's an elevated affair, with little, curvy offramps that are not at all prepared to deal with heavy traffic flow.  Yes, they used to play football games there — it's on the site of the old Orange Bowl — but there's a big difference between throwing tens of thousands of cars into the area eight or ten times a year on the weekend and doing so 81 times a year any day of the week.  If they have a plan to deal with all that traffic, god love 'em, but it's really hard to picture it from the way things look right now.
After scoping the construction site Gator and I sat in his car for a while and shot the breeze about baseball.  While a Feesh fan now, he was a Mets guy going back to the 60s, and had season tickets in Shea Stadium for years. He saw Willie Mays there in 1973. He watched Tom Seaver pitch and watched him get shipped out of town. He watched the ball go through Bill Buckner's legs from a couple dozen yards away.  For all of Gator's tangents and diversions in the comments section, the man is a baseball fan through and through, and a passionate and knowledgeable one at that.
After a bit we went our separate ways, as I had to get on the freeway up to Port St. Lucie. But before I left, he gave me two cds — the Cowboy Junkies' "Pale Sun and Crescent Moon," and an album called "Discount Fireworks" by a group called Over the Rhine, which, while they're from Ohio too, I've never heard of (Gator was going to see them live that night).  He also gave me two books: a collection of criticism he edited about both the novel and the movie "No Country for Old Men" — Gator is more or less our nation's foremost Cormac McCarthy expert — and a book called "Liberty Street: Encounters at Ground Zero" by Peter Josyph, who happens to be a friend of Gator's.  I look forward to reading them both.
Two lessons here. First, it's really awesome meeting readers, so maybe we'll have to do some HBT meet-ups at some point. Second, while the awesomeness of meeting readers doesn't depend on them giving me gifts, I ain't gonna sneeze at 'em either.
With that my spring training dispatches are done for the day. Aaron and the guys will be checking in with other baseball news as usual, of course, but I have to get on the road to Fort Meyers, where I'll be catching the Twins on Tuesday and the Red Sox on Wednesday.
Later Gators.