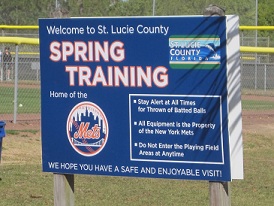 My plane landed in Miami on Saturday morning and after lunch and some sightseeing with a mystery person I'll tell you about later, I booked it up I-95 to Port St. Lucie, or as it may be more aptly called, Long Island South. Yes, there are a few Mets fans here.
Tradition Field and the Mets' spring training complex is not really in Port St. Lucie proper. Oh, that may be the address, but it's actually the anchor for St. Lucie West, a "Master Planned Community," according to the signage, which may represent the first time in recorded history that the Mets have been so closely associated with a master plan.
St. Lucie West is pretty nice if you're into meticulously landscaped boulevards, the worst timed traffic lights on the eastern seaboard and strip malls so tucked away and hidden that it makes finding the Taco Bell an unnecessarily difficult ordeal.  I'm sure there's nice golf in the area, however.  Other notable observations upon my arrival:
My hotel is about a half mile from Tradition Field. The people behind the counter all wear Mets jerseys, which is pretty cool;
My doctor recommended that I take extra good care of myself while on assignment, so I stopped at a liquor store Saturday night to stock up on some Kentucky medicine. Behind the counter was the friendliest and least discreet clerk I've ever met. He asked me if I was in town for baseball and I said yes. He then told me that Mets pitcher John Maine had been in there a half hour earlier, came up to the counter with a bottle of Grey Goose and was getting ready to pay for it when a Mets coach walked in. Maine and the coach talked for a few minutes, and then Maine walked out, forgetting to buy his vodka.  I got this mental image of him getting back to whatever social gathering he was attending and someone asking him where the booze was, only to have Maine go "Ummm, oh. Man."
I woke up yesterday morning to get my continental breakfast on, and in the lobby was a young woman in black spandex pants, Mets fleece and Mets cap yelling at one of the desk clerks.  Seems she left her car someplace the night before — obviously not at Maine's party, as there was no booze there — and needed to get a cab to go and pick it up. When told it would be 45 minutes before a car could get out there, she yelled "I'm from New York and this sh– doesn't fly!!  I live an HOUR outside of Manhattan, and I can get a car to my house faster than that!"  I suppose she has a point about 45 minutes being a long time to wait, but I've found that one generally doesn't get what one wants in this world by telling people that you come from someplace better and more important than they do.
Oh yeah, I was in Port St. Lucie for some baseball too.  More on that in a bit.  I think it's going to be a fun week.