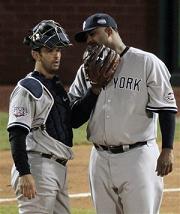 Bud Selig has his little committee to talk about speed of the game, the postseason schedule and other rules changes.  The USA Today put their own committee together — including guys like Dusty Baker, Torii Hunter, Scott Boras and former umpire Steve Palermo — to talk about many of the same things, and unlike Bud's group, USA Today showed its work.  The most interesting thing to me: everyone says that those pitch-striker strike zone boxes used on TV broadcasts are ridiculously off, which is something I've suspected for a while. "They should say at the bottom of the screen, 'This is for entertainment purposes only,'" Palermo says.
The most controversial stuff — but I think the most righteous — comes when the subject of speed-of-the-game comes up:
"When you got a 15-13 game, it's going to take
3½ hours," Palermo says. "But I don't think it should take 3 hours, 5
minutes to play a 2-1 game. You're putting everybody in a deep freeze
by doing that. You might as well have Dean Smith come out and do Four Corners."

The trouble, Palermo says, is there are certain teams and individuals who continually ignore baseball's directives.

"This is a hot button with the commissioner,"
Palermo says. "We've got a couple teams — I'm not going to name names,
but I think everybody knows who they are — and they're arrogant. They
don't think this pertains to them. I had a president of one of those
ballclubs tell me the system is flawed. I told him, 'Then how did the
28 other teams conform to what we're asking except for you and your
next-door neighbor that you have a rivalry with?'

Says Los Angeles Angels outfielder Torii Hunter,
realizing along with the other panelists that Palermo is alluding to
the New York Yankees and Boston Red Sox "Everybody else gets screwed but those two teams."
You don't need a panel of experts to tell you that the Yankees and Red Sox have turned baseball into a snooze-fest, but it's somewhat surprising to hear people in and around the game being so up front about it. They're particularly tough on Papelbon, who always takes extra pitches in the bullpen after being summoned, thus lengthening the time for pitching changes, but they go on about the Yankees' excessive mound visits too.  For my money they could pile on about how long and how often guys on those teams step out of the batters' box in between pitches too.
We get it, Red Sox and Yankees: you're important.  But you're not THAT damn important, so get on with it, will ya?