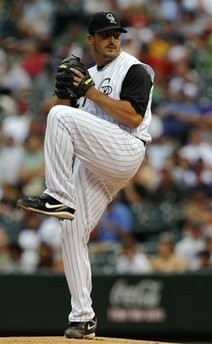 Jason Marquis, 31, turned in an impressive 15-13 record, 4.04 ERA and 1.38 WHIP last season in 33 starts for the Rockies and set out in search of a lucrative free agent contract this winter.  He made it known early on — in mid-November, in fact — that he wanted to play for the Mets, a team he grew up rooting for as a native of Long Island, New York.
"There's definitely interest there," Marquis said of the Mets five months ago. "We'll see what direction they want to go."
The Mets made some initial contact with Marquis, but never pursued an actual deal.  The right-hander explained the situation Saturday while donning a Nationals uniform in Viera, Florida.
"I wanted to come home to New York to play in front of family and
friends — you've got people on your side," he said. "Washington showed
aggressiveness. They wanted me. … I wasn't expecting anything [from the Mets], [But] it was very
disappointing when we didn't hear back from them."
Perhaps Mets general manager Omar Minaya made the right move by holding off on Marquis.  After all, he had an ugly 4.57 ERA and allowed 97 hits in 92 2/3 innings after the All-Star break last season and was left out of Colorado's postseason rotation.  Still, isn't it odd that Minaya and Co. cut off contact so quickly?  It's not like the club is rolling out a bunch of sure-fire aces this year.