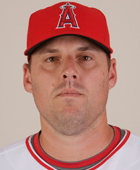 John Lackey, signed to a five-year, $82.5 million contract in December, made his debut in a Red Sox uniform on Saturday.
He did quite well, needing just 19 pitches (11 strikes) to cruise through two innings of work against the Twins.  The right-hander collected one strikeout, two flyouts, and forced three groundouts.
"I felt like my delivery was on time, fastball was coming out pretty
decent for the first time," Lackey said after the outing. "Just a good starting step."
Lackey stuck mostly to his two-seam and four-seam fastball while also working in a few curves.  Red Sox manager Terry Francona has not yet decided where his three potential No. 1 starters — Lackey, Jon Lester and Josh Beckett — will fit into Boston's 2010 rotation, but it really doesn't matter all that much.  The Sox are stacked again, even more so with Lackey and his 3.81 career ERA on board, and should contend for the AL East crown all season long.