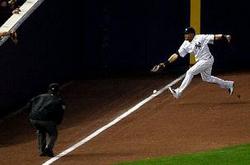 The umpires took a well-deserved public flogging during the postseason, so much so that rotations were switched up during the World Series. Some called it mere window-dressing at the time, but some significant institutional changes are already underway for the 2010 season.
Jerry Crasnick of ESPN.com reports that Randy Marsh and Charlie Reliford have retired and taken jobs as
supervisors. As a result, former supervisors Marty Springstead, Jim McKean and
Rich Garcia were not retained.
Here's major league baseball's executive vice president Rob Manfred:
"Because of early retirement, there were some quality people like Randy
Marsh who became available to us," Manfred said. "When things go less
than perfectly — as they did in the postseason — you're going to think
about making changes. And part of it is just the natural turnover in an
organization. It's no more complicated than that."
Springstead, according to Crasnick, had been a supervisor since 2000, while Garcia and
McKean started in 2002. Marsh had been a major league umpire since 1981 while Reliford, started in 1989.