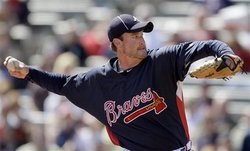 Steve Henson of Yahoo! Sports has the details on Derek Lowe's new delivery:
Lowe used to hunch over and keep his hands near his chest as he
turned into the balance position before striding toward the plate. Now
he brings his hands above his head and stays as tall as possible over
the rubber, increasing the downward plane of his pitches.

"When you are 6-6 you don't want to pitch at 5-10," he said, adding
glibly, "teach your kids that."

Lowe's new motion resembles that of a taller Greg Maddux,
his golfing buddy and former teammate with the Dodgers.
Lowe tossed two perfect innings in his spring debut against the Nationals on Friday.
The sinkerballer hopes the new motion will help him induce a few more groundballs. Last season, Lowe posted a career-low 56.3 percent groundball rate while opposing batters made contact a career-high 85.3 percent of the time. It all added up to a disappointing season in which Lowe finished 15-10 with a 4.67 ERA and 1.52 WHIP. After an offseason full of trade rumors, Lowe will get an opportunity change the conversation early. He was recently named as the club's Opening Day starter against the Cubs.