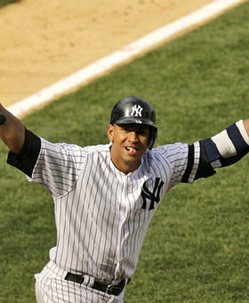 Yes, this story is a day old, but I couldn't resist the temptation to point out a piece that will get everyone worked up over nothing.
Bob Raissman of the New York Daily News writes that the Yankees are furious that Alex Rodriguez did not immediately inform them that he had been contacted by the feds to testify in a case regarding Canadian doctor (and known HGH distributor) Anthony Galea.
"They (Yankees brass) don't like being blindsided," said a TV industry
source who deals with the Yankees and YES.
"If Rodriguez isn't protecting the organization paying him a fortune,
why should the organization go out of its way to protect him?"
OK, fair enough. They probably are. They have every right to be. But his proof that they're displeased? The broadcast of A-Rod's first at-bat of the spring:
"That all amounts to a huge sigh or relief for Alex Rodriguez, who
now comes into camp healthy," Michael Kay, YES' play-by-play man, said as Rodriguez stepped in Wednesday
to face Pirates pitcher Ross Ohlendorf.

As soon as those uplifting words left Kay's mouth, Ken Singleton, his partner, down-shifted into the dark
side. Singleton started talking about last spring, hip surgery and "uh,
uh, steroids."

Kay quickly said: "Now Alex was looking to have a very, very quiet
spring this year with health and the world championship, but he was
questioned by the media the other day because he's going to be
questioned by FBI officials about the Canadian-based doctor Anthony
Galea . . ."
Now, keep in mind that I didn't see the at-bat, but only on YES would telling the truth be construed as punishment. The YES broadcasters have been known to coddle the home team, but more in a "rah-rah" way than anything resembling state-run television. Again, just my opinion, but I find it really hard to believe that Kay's words were the result of any edict from above.