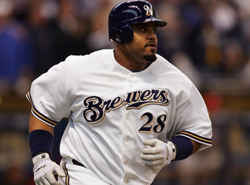 The fact that Boras — a dude who hardly ever has elite clients sign early — would talk to the Brewers about Prince Fielder two years before free agency was something of a head scratcher when we learned about it yesterday. But then I read Heyman's column today (don't think I enjoy it; I have to for professional reasons) and was reminded of a pretty darn salient fact I had forgotten:
The greatest positional class of free agents comes in two years, when star first basemen Albert Pujols, Ryan Howard, Adrian Gonzalez and Prince Fielder are all eligible for agency.
Boras can be really annoying, but he's not stupid. I don't think Pujols is a legitimate bluff for any 1B-courting team come 2011 — he'll be a Cardinal for life by then — but there's a really good chance that Howard and Gonzalez are on the market along with Fielder. Given how much better shape Howard is in now than he was a few years ago, I'm not certain that Fielder isn't the third choice among those guys, even if he is (a) younger; and (b) the better hitter right now.
In light of that, locking Fielder up in Milwaukee two years before he hits the market may be a very Boras move after all: it's the play that makes his guy the most money.