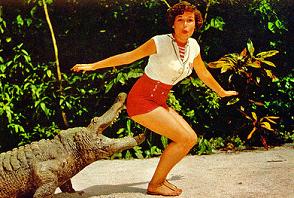 I'll be blogging as usual today, but first thing tomorrow I'm leaving on a jet plane and heading to Florida to check out some Spring Training wonderfulness.  It should be great: I'm in the best shape of my life. I'm working on a new grip for my changeup. The voice of the turtle is heard in our land and all of that.
The plan:
Mets camp on Sunday, when they play the Nats. That is, assuming the Mets don't read this blog and decide to ban me from the premises;
Tuesday and Wednesday will be in Fort Meyers for the Twins and Red Sox, who will be playing the Cardinals and the Rays, respectively;
Thursday will be busy: Pirates-Rays at Bradenton during the day, Yankees-Braves in Tampa that night and at some point I probably need to see my mother-in-law who spends her winter in that neck of the woods. She's not in the best shape of her life, but she's doing pretty well for a 75 year-old woman;
Friday will likely be spent loitering at whichever camp in the vicinity seems the most interesting;
Saturday its the Phillies in Clearwater, where I'll do my best to avoid catching a spike on the turf at Bright House Field.
Things I hope to accomplish apart from getting the hell out of Ohio for a week: Meeting some people. Learning some things. Grokking some spring training zeitgeist. Seeing how much I can get away with on the NBC expense account. Making an enemy or two. Buying my kids alligator key chains and stuff. I suppose if I try I could crack the back end of the Mets rotation. It's all rather up in the air, actually, which makes this whole endeavor rather exciting.
If anyone has any ideas of stuff they want me to see, do, ask or whatever, by all means, let me know.  Short of that, I'm just going to jump in and see how deep the water is.