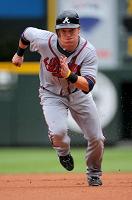 Nate McLouth doesn't miss Pittsburgh:
"Things here are a lot more positive and relaxed," McLouth said.
"People aren't so … uptight. Losing for so long, there's so many
negative things said about the Pirates. It's tough to read them; you
get defensive. The thing is, it's true and it's tough to deal with that
negativity every day. It was kind of nice to get here to an
organization that's won for a long time."
Oh, and he has new contact lenses which he said he's probably needed for years. Why didn't he get them before now?
The Pirates checked his vision each year during spring training, but never detected any problems. "A blind man could pass that test they do," McLouth said, noting it basically consisted of reading an eye chart.
Ouch.  Rob Neyer lately has been talking about how teams are often penny wise and pound foolish, spending all kinds of money and mental energy on big name players but spending scant dollars and almost zero mental energy on little things like player nutrition, conditioning and stuff.
If what McLouth is saying is true, put the Pirates' eye test in that same category.