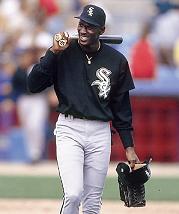 Alex Speier has a nice feature today on Mike Cameron remembering his days in the White Sox system with a fellow by the name of Jordan.  File this under stuff I never realized at the time:
Cameron could see that Jordan still loved [basketball], loved talking trash to their on-court opponents. That, combined with Major League Baseball's
efforts to convince Jordan to be a replacement player the following
spring, when the game was still in gridlock as a result of the strike
that had cancelled the World Series, pushed His Airness back to the NBA in the spring of 1995.

"I think if the strike hadn't taken place, basketball may have been rewritten and baseball may have been rewritten," said Cameron. "When they had the strike, they
asked him to play the games. He said, 'I'm in a union, too.' And he
left.
It's sometimes startling to recall how cynical and, let's face it, plain stupid the Lords of Baseball were back in those dark days. I mean, their whole farkakte labor strategy was bad enough, but the fact that they actually thought that (a) Michael Jordan would cross a picket line; and (b) his fame, but complete lack of major league baseball skills, would save their replacement player gambit shows just how demented they were.