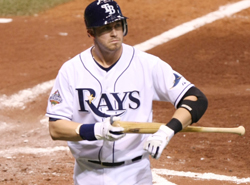 Random spring training hearsay is always fun. Here's a good one from Marc Topkin of the St. Petersburg Times:

Rays manager Joe Maddon said Yogi Berra told him Evan Longoria "reminds him of Joe DiMaggio a bit."
Allowable because I'm not offering it for its truth — outside of some random film I've never seen DiMaggio play and thus can't say if this is nuts or not — just offering it for the fact of its utterance.
Anyone with more knowledge of the smaller parts of DiMaggio's legend care to opine?  As far as Friday afternoon time killers it beats following the play-by-play of spring training games on Twitter.