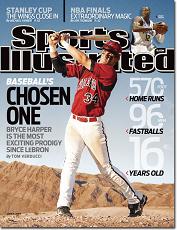 Phenom Bryce Harper has been on a parental-imposed media blackout for much of the winter. He emerges a bit today with a profile in the Las Vegas Review-Journal.  It's a good read if for no other reason than it reminds you that Harper is painfully, painfully young to be going through what he's been going through since that Sports Illustrated cover hit last summer:

"I had a transition from high
school to college, and it was pretty hard at the beginning. I was
second-guessing myself and thinking maybe I shouldn't have done this,"
Harper said Tuesday.

"There were times when I was in my room or with my family or
something, and it was pretty hard because everybody was out there
saying stuff. I can't live up to all the hype and everything like that."

Harper, an honor student in high school, earned his GED test
credentials and was excelling at CSN while recording a 4.0 grade-point
average. But he was failing for the first time in baseball, compiling
too many 0-for-4 days at practice and striking out when he was
accustomed to hitting home runs.

"It really hurt me, and I was thinking maybe this isn't for me," he said, pausing. "But I put that aside."
He's doing better now, settling into a groove and leading his JC team in homers and RBIs. A JC team that is ranked number one in the nation.  Oh, and he has a hilarious sense of humor too:
Harper, being advised by agent
Scott Boras, said it's not a foregone conclusion that he will enter
June's major league draft, which could net him a signing bonus in the
neighborhood of $10 million.
Sure it isn't a foregone conclusion. His parents didn't rob him of two years of high school and cram him into junior college because they wanted to circumvent the draft rules for high schoolers. They were simply worried he couldn't get a prom date if he stayed in high school. That's the ticket.