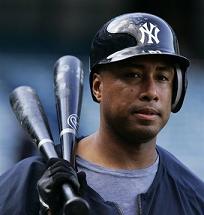 Every year at about this time Bernie Williams makes a visit to Yankees camp. Every year at this time some reporter plays the "so, is Bernie really retired?" game, even though it's obvious that he'll never play again. In a way it's like a happier version of those guys who keep pounding the "why won't Mark McGwire admit steroids helped him" thing.  Just because Bernie never actually said that he retired doesn't mean he isn't for all practical purposes, and you'd think that writers could simply write what is manifest without having to have a quote to hang it on.
But people keep writing this story. In fact today we get two such stories from the Daily News. The first one is the standard "Bernie was in the clubhouse today" thing. The second one asks whether Bernie Williams is a Hall of Famer:
Williams, a five-time All-Star who won four Gold Gloves, a batting
title and four World Series rings, says he realizes that his numbers
aren't as overwhelming as those of some others from his era – he hit
.297 with 287 home runs and 1,257 RBI. The question remains: Will
history – and Hall of Fame voters – view his career more favorably now
that so many other players have been busted for using
performance-enhancing drugs?
My suspicion is that the only writers who think that's a hard question are New York writers. Don't get me wrong — Bernie had a nice career. Maybe even a little better than you remember. He played an excellent centerfield there for a while and had a bat that could have played quite nicely in left in his prime. And of course all the intangible character stuff helps his case. World Series rings. Great reputation. All of that.
But unless you're Jim Rice and have a Hall of Fame campaign orchestrated for you by a handful of committed wackos, being really good is just not enough.  Williams never came close to winning an MVP (best finish: 7). His decline came a little quickly and was a little too steep to give him the kind of counting stats (hits, homers) voters like to see. His rate stats (average; slugging) are less than you usually get from a Hall of Famer. He was never considered close to being the best player in baseball. He usually wasn't even considered the best player on his team, even if he had years more valuable that Derek Jeter's. Even Jim Rice had that monster 1978 season to point to, and Bernie has nothing equivalent which he can point to on his Hall of fame resume.
In a world where Dale Murphy gets no Hall of Fame love and Jim Edmonds is unlikely to, I think the odds of Williams getting elected are a tad worse than the odds of him not showing up to Yankees camp every spring and having reporters ask him if he's retired yet.