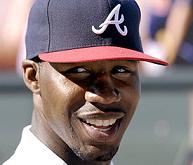 With the Jason Heyward hype reaching Weiterian levels — even Chipper Jones is getting into the act — it's easy to convince yourself that the Braves are going to break camp with Heyward as their starting right fielder. Bryan Smith of FanGraphs, however, thinks everyone should just slow down. After citing the way the Rays handled Evan Longoria, he says:
There is simply no argument to be made that the marginal value gained by playing Jason Heyward over Matt Diaz for three weeks in April is worth losing Heyward's rights for the 2016
season. Yes, calling him up on April 25 will mean that Heyward will be
a "Super Two", and thus, eligible for arbitration a year early. But
arbitration contracts are still discounts over free agent ones, and I
can already promise you that Heyward's first free agent contract will
be a big one. Without delving into the Heyward vs. Strasburg argument,
the Braves should certainly take note that Nats GM Mike Rizzo has
already written off his right-handed star beginning the season in
Washington. If you think it's because they want some minor league
seasoning for him, you're crazy — they just want an extra year of not
dealing with Scott Boras.
Excellent point. My only two objections — and I could be convinced to drop them — are:
(1) Unlike the 2010 Braves, the 2010 Nats don't and the 2008 Rays didn't truly expect to contend. Yes, the Rays did in fact contend — and how — but when the decision to keep Longoria down on the farm was made, I suspect that even the Rays' brass had third place as their realistic goal. Atlanta, in contrast, truly stands a chance to compete with the Phillies this year. And remember: they could have made it a better competition last year if it wasn't for the fact that they punted the outfield for three months, getting zilcho from anyone out there; and
(2) Braves fans really, really, really, really, really want to see Jason Heyward.
No, I don't think that either of those two reasons trumps Bryan's reasoning — no amount of April ticket sales or October playoff sales will outweigh what they'll save by having Heyward locked up in 2016 —  but those two things are likely going to weigh heavily on the minds of the Braves' front office, so it's a slightly less clear choice for them with Heyward than it was for the Rays with Longoria and the Nats with Strasburg.