The Giants and the Brewers played in the Cactus League today and, against all odds, something (kinda) meaningful happened:
In the first inning of today's Cactus League game against the Milwaukee
Brewers, Zito hit Prince Fielder in the back with his first pitch in
apparent retaliation for Fielder's staged "bowling pin" celebration
after his homer ended a Sept. 6 game in Milwaukee.
You remember that one, don't you: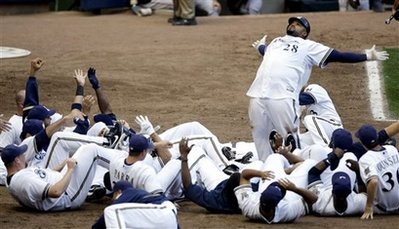 I'm fiercely opposed to guys throwing at one another out of b.s. like honor and adherence to the so-called unwritten rules, but that was really, really bush league by the Brewers and I probably would have plunked someone over it too.
And besides, Barry Zito's fastball is in no danger of hurting anyone over the age of 6, so it's all good.
UPDATE:  Prince Fielder's comments after the game:
Anthony Witrado of the Journal-Sentinel asked Fielder if the celebration was worth the ball in the back.

"Hell yeah," Fielder said. "That's something I did with me and my teammates. It has nothing to do with them."

"You're damn right it was worth it."
I hated the celebration, but I like that he's at least owning it, ya know?