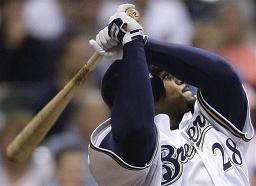 These two stories in the headline stack over at MLB.com today make me think that there was a memo sent around last week or something:
1. Family roots keep Hairstons grounded;
2. Family keeps Prince grounded:
The Hairston story is more interesting simply because I don't know as much about the Hairstons as I do Prince Fielder. But the Fielder one is interesting too in light of stuff like this from Fielder's wife Chanel regarding Prince's contract status:
"I think the team is in such a different place now than it was a couple
of years ago, I don't think it should be as scary. We obviously want to
stay. There have been days that Jadyn has come home from school after
hearing kids say that Prince is going to be traded and he says, 'Dad, I
don't want to go anywhere else!' We're comfortable, and I have met so
many wonderful people in Milwaukee."
I hate to see stuff like that. Whenever I hear it I think the people are just saying it for PR purposes (though I'm not necessarily accusing Chanel Fielder of that here). I also anticipate that someone will bookmark it and, in the likely event that Fielder leaves the Brewers in free agency, will drag it out and say stuff like "what about your wife and kids, Prince?" and accuse him of being a mercenary or something.
I know the reporter has to ask those sorts of questions in a feature like this, and I know that Chanel Fielder is no shrinking violet, but baseball is a business not unlike sales or anything else, and sometimes business considerations mean you gotta move. Hate to see the wife and kids dragged into it.