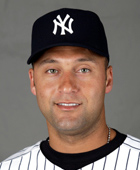 Derek Jeter was on Mike Francessa's show this morning and was asked about Yankee stadium:
They said they were going to try to make it – at least with field
conditions – as close to the old stadium as possible and they did a
great job. (Asked if his fly balls had extra carry that turned into
homeruns:) Maybe 1 or 2. I don't think there were any that I just
popped up and went out."
That's checkable!  Going to HitTracker online reveals . . . that Jeter had exactly two home runs that are classified, distance and trajectory-wise, as "just enough" or "lucky." And only one of them was to the short porch in right.  The other one was a "just enough" because it just barely cleared to straightaway center.
So, credit the Captian: he either reads HitTracker or else he really knows his homers.