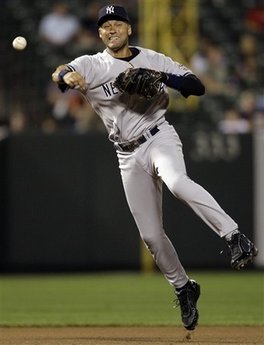 Kevin Kernan thinks that Derek Jeter's future is in ownership:
The Yankees need to find a way to make Derek Jeter a Yankee for Life.
There's really only one way. At some point the Steinbrenner family
would have to take him into the ownership group . . . Jeter is set on being an owner when his playing days are done.
Without specifically talking about the Yankees, Jeter told The Post
yesterday that being an owner is "definitely a goal of mine."
First thought: why do the the Yankees need to find a way to make Jeter a Yankee for life? He's important, sure, but I think the Yankees are more important to him than he is to them. The team has done just fine without making Babe Ruth, Joe DiMaggio, Yogi Berra, Mickey Mantle, or Reggie Jackson an owners, so I tend to think they'll survive just fine if they were to hold the line at "special assistant to the general manager" or "spring training instructor" when it comes to Derek Jeter's future role with the team.
But let's say all parties are interested in Derek Jeter being an owner. How would that work?
There was a time not too long ago when the Yankees' ownership club wasn't the most exclusive in the world. George Steinbrenner was only one of many notables in the original ownership group that purchased the Yankees from CBS in 1973. Included were guys like financier Lester Crown (who still holds a stake), Football legend Lamar Hunt's brother Nelson, and John DeLorean of all people.  There were a lot of smaller investors from here in Columbus, Ohio, one of whom was a nice old lady who used to be a client of mine. She had Yankee stuff all over her house and used to joke with people that she was going to fire Joe Torre whenever the Yankees beat the Indians as, business aside, they were her true rooting interest.
In recent years the Steinbrenners have either bought out the minority owners or had their shares revert to their control upon death or what have you.  But that doesn't mean that they can't let someone like Derek Jeter into the club.  It would just take a (likely token) capital investment and some paperwork.
But it wouldn't be meaningful ownership. According to Forbes, the Yankees are worth $1.5 billion, and at that price it would cost Jeter way more than he can afford* in order to get a significant stake for himself. And of course, the majority shareholders — the Steinbrenners — are hands-on owners to say the least, so there's no way they would ever give a minority shareholder real ownership responsibility the way the Giants do, for example.
So if Jeter simply wants to say that he owns a chunk of the Yankees I'm sure that can be arranged. If he really wants to act like an owner some day, however, he'd do better to put together a group of investors himself and buy the Royals or something.
*Kernan mentions Michael Jordan's recent ascension to owner of the Charlotte Bobcats as an example that Jeter could follow. Worth noting, of course, that the Bobcats are worth less than 1/5 of what the Yankees are worth, and that Michael Jordan has probably made a billion dollars since he left UNC.  Jeter, in contrast, makes something less than $30 million a year in salary and endorsements. Not too shabby, but not the kind of dough you'd need to be able to so much as make decisions regarding office supplies for Yankees headquarters.