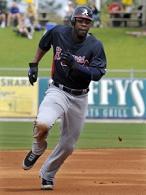 The title kind of said it all, but that was Jones' quote after today's game against the Mets:  "I will be shocked if he doesn't break camp with us."
Everyone who has watched his two games against the Mets so far is raving.  He's hit the ball hard. He scored from second base on an infield grounder today. Spring training stats mean close to nothing, but if you believe in such things he's got a single a double and three walks in six plate appearances.
For what it's worth, Ed Price of AOL tweets that the last 20 year-old to get 400 plate appearances after playing in 50 or fewer games above A-ball: fellow by the name of Ken Griffey Jr. in 1989.