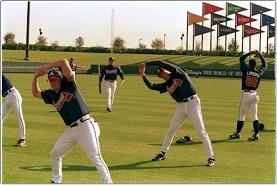 As people who've been reading my stuff for a while know, I have this little habit of waking up really early in the morning during the baseball season, reading all of the box scores and game stories and riffing on the previous night's games in a little feature called "And That Happened." It's fun. People seem to like it. Most of all, I like it, because I have a ball writing it and the process of doing it every day is the single most important part of me keeping plugged in to what's going on in baseball.
But since I get asked this every March, let me make one thing clear now: there will be no "And That Happened" for the spring training games that began yesterday and start in earnest today. Yes, it's baseball, but it's a decidedly different beast than the game we know and love. Things happen in spring training like, say, a team benching all of its regulars at the last minute because it rained three hours earlier. Veterans don't make road trips very often and play golf while their teammates sweat. Pitchers go two or three innings max until at least the end of the month. What happens in those games may be interesting, but the games as a whole are not meaningful. They're certainly not the sort of thing that makes a guy want to dig down and analyze the heck out of a box score, ya know?
We'll certainly be keeping you up to date on what happens in spring training games — see Matthew's rundown of yesterday's game, for example — but the first ATH will come on Monday, April 5th with a wrapup the previous night's Yankees-Red Sox game.
And that's just over a month away, my friends.