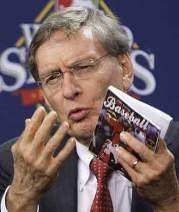 Bud Selig was just on the Mike & Mike show, and covered a couple of topics:
Greenberg asked him if he had any advice for Roger Goodell and the NFL as they wade into labor hell. Selig dodged the question with some talk about how all leagues and businesses have to deal with this stuff from time to time. I may be imagining the suppressed schadenfreude-inspired chortle. He did add, however — referring to the 1994-95 strike — that "I don't think any of us at the time understood just how much the work stoppage hurt the sport."  Which is the closest he's ever going to come to an apology, I presume;
Asked about the Dr. Galea investigation that has led to Jose Reyes and now Alex Rodriguez being questioned by the feds, Selig said "I don't think there's a great deal to worry about." Given that the man is incapable of ordering a sandwich without three qualifiers and four dependent clauses, I take that as pretty strong evidence that there's really nothing there as far as baseball is concerned;
Jayson Stark asked Mike & Mike to ask Selig whether, in light of the success of Olympic hockey, baseball would reconsider its stance on stopping the season to send major leaguers to the Summer Olympics in the event baseball is reinstated as an event, Selig gave an unequivocal no, citing that length of the season is already a problem, and saying that "telling our fans we're going away for two weeks in not pragmatically possible."
Good on Bud for that last answer.  Between the winter leagues, the WBC and the increasingly diverse pool of players in Major League Baseball, the sport is pretty damn international already. The game isn't appreciated in countries that don't already play it, and Olympic exposure does virtually nothing to enhance the sport.  If I were commissioner I'd put baseball back in Olympic Stadium before I'd put it back in the Olympics.
Oh, one final note: Selig said that he had heard Stark ask that question earlier in the show "while I was working out."  Mental picture of the day: Bud Selig in some tight Under Armor, sweating and pumping iron while a highly paid personal trainer says "PUSH IT BUD!!!"
You're welcome.