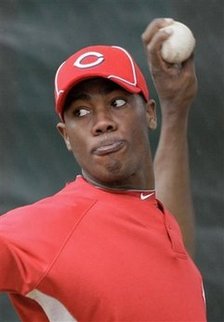 A league source tells SI.com that a settlement has been reached between Hendricks Sports Management and Athletes Premier International (API) in regards to Cuban left-hander Aroldis Chapman.
Edwin Mejia, the president of API, filed a suit against Hendricks Sports Management in Massachusetts Superior Court last December after Chapman jumped ship, claiming that the Hendricks' brothers provided Chapman "with numerous improper enticements to induce and terminate his contract and relationship with Athletes Premier and Mejia."
Chapman inked a five-year, $30 million contract with the Reds in January after joining with more-established Hendricks' brothers. We can only speculate that Mejia requested millions in damages.
While the battle with Mejia and API appears to be over, Rodney Fernandez, a former employee of Hendricks Sports Management, is still under investigation to determine whether he played a part in more than $300,000 missing from the bank account of Angels first baseman Kendry Morales. Fernandez, who played a significant part in bringing Morales and Chapman to Hendricks Sports Management, told Jorge Arangure Jr. of ESPN.com that whatever money he took from Morales' account was done with the approval of co-founders Alan and Randy Hendricks. Morales left Hendricks Sports Management for Scott Boras last month upon learning about the missing cash.