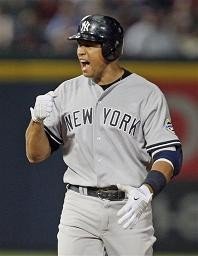 Reading the papers this morning I was surprised to see that neither Lupica nor any of the Post guys really brought the crazy in regards to this Alex Rodriguez/Dr. Galea thing. Oh, Lupica tried to muster some outrage, but his heart just wasn't in it. I was almost prepared to give up and write a post about how unexpectedly level-headed everyone was being, but then I stumbled upon Ian O'Connor's column in the Bergen Record:
But no, realistically, this isn't about someone else. It's about Alex
Rodriguez. It's about a once-in-a-generation ballplayer who cheated the
game, cheated the fans and cheated himself, and who now is discovering
that even a World Series ring and ticker-tape parade can't absolve him
of his not-so-venial steroid sins . . . Rodriguez also is waiting for a break in the storm clouds that never
will come. A-Rod's waiting for the day when he's completely liberated
from his admitted past as a chemically altered fraud. He shouldn't hold his breath . . .

. . . It's quite possible Rodriguez will tell the feds he never received
performance-enhancing drugs from Galea or anyone else, and this
flare-up will go away. At least until the next  flare-up. It's
also possible Rodriguez will tell investigators a different tale, one
that could earn him a minimum 50-game suspension . . . It sounds unlikely, but when it's A-Rod, worst-case scenarios are always in play.
And the prose gets even more purple after that if you can believe it.  All as a result of A-Rod being asked to answer a few questions about something he says doesn't even involve him and which the Commissioner of Baseball and everyone else has said is a non-issue as far as baseball is concerned.
Of course O'Conner was probably pretty proud of that "cheated the
game, cheated the fans and cheated himself" line when he wrote it last year and it would have been a shame to have left it in unused macro purgatory for much longer.