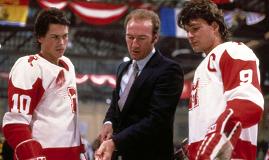 The world is a funny place. After years of thinking you know someone, you wake up one day to find out that they actually like hockey. That's what happened over the weekend, as all sorts of people I once considered to be respectable were asking me whether I was watching the USA-Canada game, telling me that their heart skipped a beat when the U.S. tied it up to send it into overtime and all that jazz. It's much like the way everyone I knew suddenly liked curling a couple of weeks ago, only this time it was without any apparent irony.
Well, it's time for these folks to put their mouse clicks where their mouth is, as we've launched ProHockeyTalk (RSS! Twitter!).  Emceed by Brandon Worley, PHT will provide you with all the NHL news, rumors, insight, analysis, "Slap Shot" references and poutine you could possibly want, all in one convenient location.  You should totally check it out. I'm a huge Cleveland Barons fan, so I'll definitely be reading.  Johnny Damon and Scott Boras will be clicking there every day too. They LOVE octopus.
In other news, ProCurlingTalk's launch — originally scheduled for next week — is going to be delayed. Some squatter owns that URL and he's being a real jerk in negotiations. I'll give you the heads up.