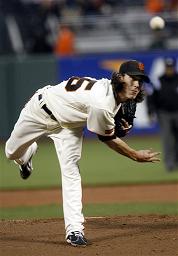 ESPN's Gene Wojciechowski starts out his latest column — a transcript of the ramblings of some scout he knows — by saying "Call him Scout X. Big league lifer. One of the best in the business. Has forgotten more about baseball than you and I will ever know."  Of course, Wojciechowski's writing suggests he doesn't know all that much about baseball, so that's no big trick.  But I'll let you be the judge. Woj's scout says this:
I don't pay to see game, but if I had to, I'd pay to see Tim Lincecum and Matt Cain of the San Francisco Giants. But if you give me the choice between Lincecum and Cain, I'll take Cain for the next six, seven years.  Cain
can really pitch, man. Lincecum, he's a freak. He weighs 160 or so
pounds. He's a max-effort guy with a bad delivery. Don't get me wrong
— he punched out 261 guys last year and he might pitch forever. But
it's just that Cain pitches with such ease. He won 14 games last year
with a 2.89 ERA. Lincecum won 15 with a 2.48. See what I'm saying?
All I see is that he's (a) overvaluing wins; and (b) living about 10 years in the past when it comes to analyzing pitching mechanics, because people who know about this stuff don't worry too much about Lincecum's mechanics.
But if he wants to join the fantasy league in which I own Matt Cain, I'd be more than happy to do some trades with him.