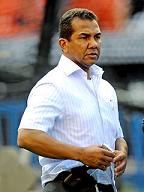 Remember that guy who left your office last year, and when they went and cleaned out his office they found all those files he'd been screwing up for the past couple of years without anyone really knowing it?  Yeah, the Mets had one of those dudes:
Sources say [Tony] Bernazard, who oversaw minor-league development, was so
insistent on players hitting the ball to the opposite field that minor
leaguers were scolded for pulling the ball, sometimes even when they
got a hit . . . The intentions were good but the methods were extreme. In spring
training players took 80 swings a day against curve balls from a
pitching machine, hitting the ball the other way. The drills, which
continued at a modified number during the season, were emphasized to
the point that players eventually thought they were silly, and perhaps
even detrimental.
There could be some value in emphasizing opposite field hitting — Jeff Francoeur notes in the article that it may have helped him, which makes some sense for a guy who tries to jump on every pitch — but a one-size fits all approach to hitting is moronic.  Do you really want to turn David Wright into a slap hitter?  How much of his problems last year were the result of those 80 opposite-field swings a day?
Between this and all the other stuff he did after his buddy Omar Minaya hired him, Bernazard stands as the best argument there is against giving jobs to your friends simply because they're your friends.