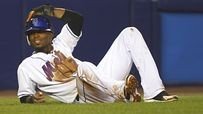 As was reported over the weekend, Jose Reyes was questioned by the FBI about his association with a Canadian doctor who is under investigation
for drug violations, including conspiring to smuggle human growth
hormone into the United States from Canada. Unless Reyes was dumb enough to lie to the FBI he's probably not in any legal trouble. But based on an account of Reyes' visit to Canada that ran in the New York Times last December, I'm guessing that some members of the Mets' medical staff will be talking to the FBI soon:
In the case of Reyes, a two-time All-Star, Mets officials tried to
change Greenberg's mind about sending him to Galea. They relented
because under the collective bargaining agreement, players have a right
to see a doctor of their choice, and Reyes was clear about wanting to
go. So shortly after the All-Star break, Greenberg and an official from
the Mets' medical staff traveled to Toronto with Reyes, who received
plasma therapy there from Galea.

The Mets insisted on having a
member of their medical staff on the trip because they wanted someone
to be with Reyes and Galea at all times. Uneasy with the situation,
they wanted to be sure that Galea did not give Reyes any substances
that were banned under baseball's drug-testing program, said the people
with knowledge of what occurred.
I have two thoughts:
1. For as much as I've slammed the Mets' adventures in the world of medicine recently, kudos to them for doing as much as they could to monitor Reyes' trip up north to have his blood spun. While there is anecdotal evidence of the procedure working wonders, it's still an experimental and controversial treatment that could very well serve as a means of introducing PEDs into a player's system. I've read some commentary criticizing the Mets for allowing Reyes to see Dr. Galea, but the fact is the Mets couldn't stop Reyes from doing this and at least they didn't just look the other way once their player decided to go see a doctor with some shady associations;
2. Do any of you know anyone at the FBI?  Because, really, as long as the Mets' doctors are going to be answering questions, perhaps we can arrange it for someone to ask them to give us the straight story on Kelvim Escobar. Something tells me that when faced with the threat of perjury they'll come off their "he's right on schedule with his rehab" jazz.