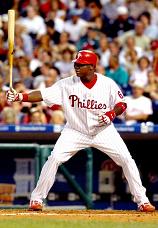 Zoinks! It's not me saying it. It's Bill at Crashburn Alley.
There's math and caveats and stuff so you should probably read the whole thing rather than expect me to blockquote it, but the argument boils down to this: trading Howard would clear payroll space, allow the team to retain Jayson Werth, would help replenish the farm system and would thus allow them to stay competitive in 2012 and beyond.
Of course a similar argument could be made about most every superstar. It may be more apt in Howard's case seeing as though it's not as if he's the only franchise-leading talent on that team and seeing as though there's reason to suspect based on his skill set and body type that he may age more poorly than most.
Of course, as long as the Phillies keep a packed house and remain front runners to win the NL Pennant, this is all just crazy talk.