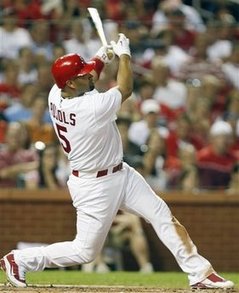 We're living in the dark ages of baseball nicknames. Most players don't even have one, and most of those who do have dumb ones that rarely amount to more than adding a "y" or "ey" on to the end of their names.  In a sport that gave us "Oil Can," "The Yankee Clipper," and "Death to Flying Things," it's sad damn state of affairs. Even more sad is that we apparently now have to give up one of the few good ones out there:
Pujols politely asked that the media and fans refrain from calling
him "El Hombre," because he believes it's disrespectful to Cardinals
Hall of Famer Stan "The Man" Musial.

"I don't want to be called that,"  Pujols said. "There is one man
that gets that respect, and that's Stan Musial. He's the Man. He's the
Man in St. Louis. And I know 'El Hombre' means 'The Man' in Spanish.
But Stan is The Man. You can call me whatever else you want, but just
don't call me El Hombre."
OK, I'll grant that it's hard to argue with his reasoning. But if you can't pick your own nickname, you certainly can't un-pick one others have bestowed upon you.  If you could, Dick Stuart wouldn't be remembered as "Dr. Strangeglove," and that weird kid from my high school who everyone picked on wouldn't be doing 25-to-life at the Mount Olive Correctional Complex.
So unless someone can come up with an alternative nickname for Pujols — something as menacing as, say, "The Big Hurt" but which simultaneously captures Pujols' class and grace — I'm sticking with El Hombre.