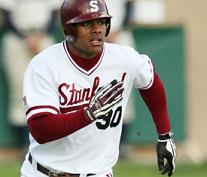 Athletics' prospect Michael Taylor spent the winter playing in Mexico. Sounds fun:
"Animals on the field. Like chickens and stuff like that. People having
barbecues in the stands. Just piling up firewood. The passion. They had
bands, a lot of live music," he said yesterday at Phoenix Municipal
Stadium.

"It was just a different environment. Baseball fans usually cheer
when something happens on the field. These guys were cheering, singing,
dancing the entire game. And the mascots are crazy. The mascots would
be on the field, too. Dancing and doing shows. It's kind of different
to be in rightfield and have a mascot 60 feet from you doing a dance
with another mascot. During play. They're involved. It's a show."
U.S. baseball hasn't been that fun since they banned ten cent beer night.  In other news, Taylor bears his fellow Stanford alum Ruben Amaro Jr. for trading him as part of the Roy Halladay deal:
Asked if Amaro had broken some sort of Cardinal code, he laughed.

"No, he actually upheld the Stanford code, which is to make the best business deal possible," Taylor said.
That's the Stanford code? How . . . inspiring.