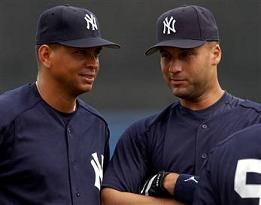 The New York Times runs some A-Rod and Jeter projections from the Baseball Prospectus gang:
In the first year of the new Yankee Stadium, its tenants won the World Series. In its second, Alex Rodriguez could hit his 600th home run. In its third, Derek Jeter
should notch his 3,000th hit. More milestones will follow, and
Rodriguez and Jeter will almost certainly be chasing them together . . .

. . . According to Chone, Jeter will retire at age 40, after the 2014 season,
with 3,446 hits. As for Rodriguez? When his contract expires, he would
be first in career home runs, runs scored, runs batted in and
strikeouts. In addition, he would be fifth in hits, about 30 ahead of
Jeter.
It's kind of hard to get a handle on history as it happens, but every
once in a while it's important to look past the P.R., the gossip, the
snark, the Yankees-Red Sox garbage and the game-by-game,
season-by-season minutiae of it all and realize just how flippin' good
A-Rod and Jeter have been.
Whatever you want to make of their personas or what have you, we're going to be talking about them to our grandkids the way our grandparents talked to us about Ted Williams and Joe DiMaggio.