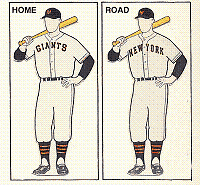 I generally stay out of the Dodgers-Giants rivalry because I really don't have a dog in the hunt. There are years that I like to see the Giants get the best of the Dodgers and vice-versa. It usually depends on the makeup of the rosters, how it impacts postseason matchups, and whether or not one or the other of them beat up on the Braves that given year.  At present I'm favoring the Giants because of my crush on admiration for Tim Lincecum and the fact that the Dodgers media people are acting like jerks. That could easily change, however depending on how awesome Matt Kemp or Clayton Kershaw decide to be this year or whatever.
But after scanning the newspapers this morning, I may have to go all-in with the Giants. Why? Owner Bill Neukom has made retro-style, orange-striped socks available to his players and strongly encourages their use:
In addition to the standard sanitaries and the all-black socks, the
Giants also made a deluxe version available to their major leaguers
this spring. They're black with three horizontal orange stripes that
are only visible when their pant legs are worn high.
They'll be required at Single-A San Jose and other minor league stops that share the Giants' color schemes.

"I think it's a great look," Neukom said. "I think it looks like baseball. I also think it'll make them faster runners."
Frank McCourt can have his Chinese soccer team and football stadium in the parking lot. I'd prefer the owner of my team to care about baseball stuff. Especially trivial and wonderful baseball stuff like striped socks.