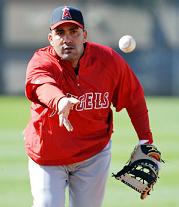 Last week Heyman suggested that Kendry Morales' firing of the Hendricks Brothers was due to some financial funny business. We're getting a clearer picture of that now:
A former employee of Hendricks Sports Management is being
investigated by both the Major League Baseball Players Association and
the Coral Springs (Fla.) Police Department about the disappearance of
more than $300,000 from the bank account of Los Angeles Angels first baseman Kendry Morales.

Rodney
Fernandez, a former employee of Hendricks Sports Management LP who
recruited Cuban defectors Morales and Aroldis Chapman to the firm,
confirmed earlier this week that he was questioned by the MLBPA in the
past week regarding Morales, but denied having taken any money from the
player.
Fernandez isn't having it, and he's throwing the Hendricks Brothers under the bus:
"If I'm supposedly the person who took all that money, then how come
now I don't have anything?" he said. "I don't deserve what is
happening."

Fernandez said he was told by members of the Hendricks agency to keep
quiet about rumors of financial indiscretions in December and January
so it would not adversely affect Chapman's free-agent contract
negotiations with the Reds.

He said that he didn't have access to Morales' bank account and that the Hendricks firm should "pay Kendry back his money."
I have no idea what really happened here, but between this business and the lawsuit filed by Aroldis Chapman's original agent, if I were a player I wouldn't touch the Hendricks Brothers with a ten foot pole.