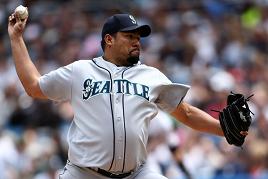 The Tribune has a story about Carlos Silva and his weight. This is classic:
"That was one of the (bad) things with Seattle. Here, they want to get
me back on track in my pitching. They don't worry about my size or my
weight. In Seattle, they were worried more about my weight than
anything else. I feel more comfortable here. Getting people out is what
matters. I'm not out of shape at all. Ask the trainers."

The trainers aren't allowed to speak with the media, but pitching coach Larry Rothschild gave an honest appraisal.

"You'd like him to lose some weight," he said. "And we've talked to him about it."
Piniella's zinger may be the best: "Silva is a hard worker, there's no question about it. He might be a hard eater (too)."  Lou can't really talk, of course, but at least the Cubs aren't expecting him to cover first or jog in from the bullpen or anything.
Such weighty issues aside, I like the Silva-Bradley trade for Chicago more than most people.  Bradley's problem was his attitude and his mouth.  Silva's mouth won't be a problem all year, what with being filled with Ring-Dings and whatnot.