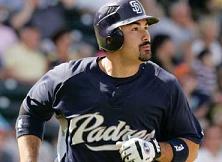 It's long seemed obvious that Adrian Gonzalez won't be signing a mutli-year extension with the Padres. The real question is how long into his current, very reasonable deal the Padres will keep him before putting him on the market. But in the unlikely event that the Padres do look to keep him around long term, they shouldn't expect any bargains.
"This next contract is going to be the contract I think I deserve," Gonzalez said today, while also confirming that there were no
current discussions between his agent and the team.  He added that he "wants to win as a Padre more than anything else" but that he has no sense of what his future holds.
While he may not be on quite the same level as Joe Mauer and Albert Pujols, he's the unquestionable face of the Padres and the most important player on that team since Tony Gwynn retired.  In light of this I wish people would offer the same "I think it be best for the team if he stayed put . . ." disclaimers when discussing Gonzalez's future that they do for Mauer and Pujols.