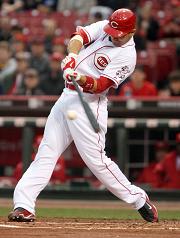 After bad news regarding Dontrelle Willis and Khalil Greene, finally some good news from one of the players who have struggled with anxiety disorders and allied maladies recently:
When you ask Joey Votto about his offseason, he gives you a polite "fine, thank you."

But the Reds first baseman knows you want to know more. His battle
with anxiety and depression that caused him to miss 31 games was a huge
factor in the Reds' success or lack thereof last season.

Votto
says he had no incidents after last season – his panic attacks led to
hospital visits last year – but he wouldn't say he's past all of his
problems.

"A lot of people want miracles," he said. "Life's not like that. I'm making progress. I'm going in the right direction."
My favorite thing in the article: Votto knows his 2009 OPS off the top of his head.