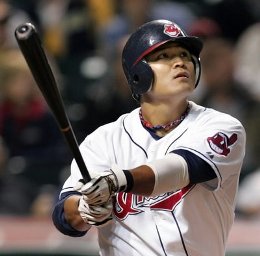 What is a country? A country is a piece of land surrounded
on all sides by boundaries, usually unnatural. Englishmen are
dying for England, Americans are dying for America, Germans
are dying for Germany, Russians are dying for Russia. There
are now fifty or sixty countries fighting in this war. Surely
so many counties can't all be worth dying for:
Able-bodied South Korean men must serve two years in the military by
the time they turn 30 years old. For the 27-year-old Choo, who turns 28
in July, that deadline is coming up quick.

Choo spent his entire life preparing to become a professional
baseball player, and he refuses to walk away from the game at a point
where he should be entering his prime. He is hoping to get clearance
from the Indians to participate on the South Korean baseball team in
the 2010 Asian Games, which take place in November. If he does, and his
team wins a gold medal, Choo would receive an exemption from the South
Korean government . . . But what if Choo doesn't get that clearance or the Korean team doesn't win the gold?
I know that famous people are often exempted from compulsory military service, but having to serve (or not) based on winning the Asian Games seems even more arbitrary than the fame game itself. Of course, a rule that says "win a gold and you're cool, win a silver and you're cannon-fodder," is certainly an effective motivator for winning those Asian games, so kudos to the guy who came up with that one.
According to the article, however, Choo has "a backup plan" for dealing with his military obligation. He won't yet say what it is.  I can only assume the obvious until told otherwise.