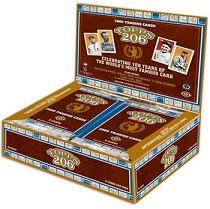 I've still got tens of thousands of baseball cards in my basement from back in the day, but I haven't bought a new one in nearly 20 years. Just sort of lost interest, even if I still love my old ones. My mom showed up at my house today, however, with a box of those new Topps 206 cards, figuring that I might like them.  And I do like them, if for no other reason than it makes me happy that my mom was thinking about me when she was at the store. Moms are cool.
So I'm opening up the packages and I'm looking at them this morning when my six year-old daughter comes into the room.  She picks one up — a Nick Markakis "relic" card with a scrap of one of his game-worn jerseys in it.
"Why is this one different than the others," she says.
"Well, it has a little piece of his uniform in it," I said.
"Why?" Anna says.
"Because some people like to collect stuff like that."
"That's pretty stupid," says Anna, "People should just be happy with their own shirts."
And thus I am reminded why I haven't bought any baseball cards in nearly 20 years.