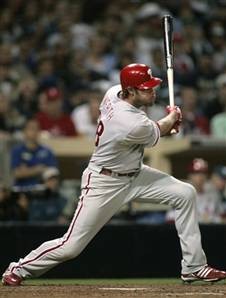 Andy Martino writes that Jayson Werth's Phuture is uncertain:
The Phillies rightfielder arrived at spring training yesterday with
long hair and a thick beard, entering the final season of a two-year,
$10 million contract. With the Phillies saying they have limited
payroll flexibility beyond the approximately $140 million currently
committed, Werth might have priced himself out of Philadelphia.

"I think everybody knows the situation," Werth, 30, said yesterday in his first public comments on possible free agency . . . Werth said that his agent had engaged in "preliminary" talks with the
Phillies on a contract extension, but that they had amounted to
"nothing, really."
Cliff Lee had "preliminary" talks with the Phillies too. He was shipped out of town, like, a week later.  I don't think that Werth will get the same treatment — he's quite popular in Philly and it's not like the Phillies can just go out and grab the a rightfield equivalent of Roy Halladay to take his place — but it's going to be a little complicated.
My guess: Philly will look to lock him up with some sort of backloaded deal in which the real money kicks in after Raul Ibanez's, Brad Lidge's and maybe even Ryan Howard's money comes off the books in 2012.