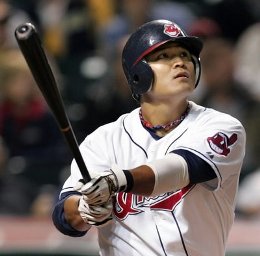 Ron Rollins is probably my oldest commenter, having now followed me to three different blogs in the past three years.  He's a baseball blogger himself. We often disagree with one another — he doesn't much go for the steroids and other trivia in which I often delve, and his threshold for sabermetrics is not as high as my own — but when he talks I always listen because there's 0% bullshit about the guy.  Oh, and he's retired from a military career that took him all over the world, and unlike a lot of soldiers, he paid attention and learned an awful lot about the local culture wherever he was. Between him and Old Gator, I get the feeling I could get a recommendation for a great restaurant on six continents.
Anyway, Ron weighed in on the Shin-Soo Choo post this morning, and it's definitely worth a read:
A lot of people are laughing about this, but it really isn't funny. It's the law in South Korea, and people take it seriously.

Remember, they are still in a state of war, and there are live fire incidencens in the DMZ on a regular basis. The North Korean army is the 4th largest in the world, and 75% of it is on the South Korean border.

The South Korean people revere their military. They have television shows specifically for their soldiers, and not serving is a serious crime.

Choo could face jail time, or loss of his citizenship. Which means he can never go home. And just because that might happen doesn't mean he's free and clear. If he loses citizenship, where does he go? That situation doesn't qualify for political asylum. He becomes a man without a country.

How would you guys feel if you were stripped of citizenship while in a different country, faced certain jail time, and knew you could never visit home again to visit your family?

If you're a Democrat, remember all the fuss you kicked up about Dan Quayle and George Bush getting out of Vietnam because of political influence? If you're a Republican, remember all the fuss you kicked up becaus Bill Clinton protested and stood by while the flag was burned? That's nothing compared to what Choo will face at home.

There is zero tolerance with serving in South Korea. The speaker of the House of Representatives had twin sons who were attending the most prestigious university in the country. It was front page news they day they were inducted.

The government decided to award an exemption to athletes for a gold medal performance, because supposedly that brings glory to the country. No one remembers silver or bronze athletes. It sounds like a nice idea, but it isn't exactly the most populare idea among military age males in South Korea, who don't have the ability to play sports at a high level.

Roger Staubach and Willie Mays did their duty. Ted Williams did it twice. You guys might think it's a joke, but I'll bet you Choo doesn't.
I thought of it as a jokeworthy story this morning, but after reading Ron's comment, I can't help but wonder if this situation will weigh on Choo this season.