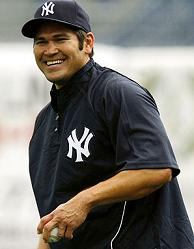 As you no doubt heard, Johnny Damon signed with the Tigers over the weekend. One year, $8 million.  Some random observations:
I don't buy for a second that Detroit really had a two-year, $14 million offer out there, but their one-year, $7 million offer was widely reported. That was dangling when the White Sox dropped out of the bidding on Friday.  Query:  If you are offering someone $7 million and your only real competition gives up, why do you raise your offer by $1 million? I'm thinking of selling my 2004 Honda Accord.  I think I'll call Mike Ilitch, tell him that no one else wants it, and then demand $50,000.
Seriously, though, Ilitch really, really saved Boras' bacon here.  In the space of a couple of days we went from a situation in which Damon was facing the contractual abyss to one in which he can take a $2 million pay cut next year and still say that he made out better for 2010-2011 than he would have had he taken the last offer the Yankees made him and which everyone said he was a moron not to take. Sure, he'd probably rather be in New York than Detroit, but if you don't think Boras will spin this as a Bobby Abreu kind of thing at the press conference later today you're crazy;
Not that an even $6 million contract next year is a given. Comerica Park is much bigger than Yankee Stadium, which will expose Damon's poor arm and will likely depress his power numbers.
The no-trade clause which was reportedly included in the deal is rich indeed.  The team most likely to trade for Damon in the middle of the season is the Yankees, who are taking a chance on Brett Gardner as an everyday player. The odds of Damon not waiving his NTC for them — or for any other contender on a coast — are so infinitesimally small that they're not even worth calculating. I bet Boras asked that the NTC be included so that he could claim that, yes, Detroit was where Damon always wanted to be. Even if we know that's not really true.
Curtis Granderson's 2010 salary: $5.5 million. Damon's: $8 million. Just sayin'!
Johnny Damon will help the Tigers. Of course he would have helped them even more at $7 million or less too, but since Mike Ilitch doesn't seem to care a whole hell of a lot for that supply and demand thing, we'll never really know.