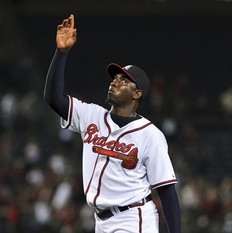 Gary Shelton of the St. Petersburg Times catches up with new Rays' closer Rafael Soriano, who is as cool as a cucumber:
Jeter and A-Rod, you say. And he does not quiver. Ortiz and Youkilis, you say. And he does not flinch.

Teixeira and Hill, you are about to say. And he does not wait
for you to finish because the list of imposing American League East
hitters is long.

"I do not care," Rafael Soriano says softly, firmly. "If I am
healthy, if I am on the mound, I do not care who the hitter is. I am
good, too."
I absolutely love this response and I wish everyone asked about how tough the AL East is said something similar.
Yes, it's a good division. Even tougher than it has been if the Orioles take the step forward many are expecting them to take.  But still, every major leaguer is a pro who, at some point in their lives, was the absolute best at what they did in their given peer group. The difference between being merely good and truly elite are not as great as many people realize.
There are differences in quality between the AL and the NL at present, and there are differences between the AL East and everyone else as well. But those differences are not akin to those between day and night or man and boy, and frankly, I'm tired of the exaggerations.