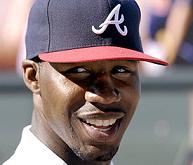 Braves' outfield prospect/personal Man-Crush Supreme Jason Heyward showed up to spring training this morning looking absolutely huge. His teammates compared him to Jevon Kearse.  Asked if he had some kind of special workout or diet this winter he said:
"Just growing up. Hopefully growing into my grown-man strength."
Dude had a .963 OPS across three levels at age 19 last season. If he did that without even being physically mature, I for one welcome our new Jason Heyward overlords.
In other news, there's likely to be a lot of Quotes of the Day in the coming week. We're at that time of the year when nothing is really happening yet, everyone is happy and optimistic and thus everyone is talking. That makes for great quote.