John Kibler was a Korean War veteran, a former New York State patrolman and a major league umpire for more than 25 years. In that capacity, he worked the World Series four times. He was married to Mrs. Kibler for more than 50 years and had a couple of sons who I assume are fine, upstanding young me in their communities.
Quite a life. More than a lot of us will ever do. Which makes me wonder why the Associated Press chose this particular headline to mark his recent passing: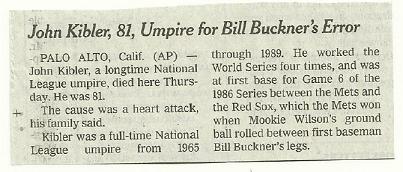 This is like writing an obit about the former police chief with a headline that references the fact that he stood behind the mayor during an interesting speech that one time.