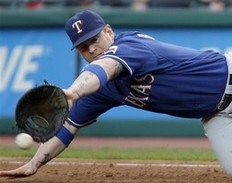 With Russell Branyan joining the Indians and Carlos Delgado down following another hip surgery, the first base market is finally just about bare. Jermaine Dye would give the position a try if asked and Cuban defector Jose Julio Ruiz is getting some attention, but Hank Blalock is the one experienced viable major league regular left available.
And Blalock is a viable regular. He did a horrible job of getting on base for the Rangers last year, but he delivered 25 homers in 462 at-bats. The problem is that he hasn't been both healthy and productive since 2004, his age-23 season. In 2007, he posted a 901 OPS in 58 games. In 2008, it was an 846 OPS in 65 games. He was mostly healthy last year, but he came in at 736 in 123 games, nearly half of them spent at DH.
My feeling is that Blalock's upside makes him worthy of more than just a minor league contract, though he probably won't get one at this point. He has four 25-homer seasons to his credit, and he's a lifetime .269/.329/.465 hitter. While he'd always previously taken advantage of the friendly hitting conditions in Arlington, he was actually far more productive on the road (.256/.308/.493) than at home (.213/.247/.427) last year.
Blalock's best hope now might be Tampa Bay. The Rays lost out on both Johnny Damon and Branyan in their quest for one more bat. Blalock wouldn't get much of an opportunity to play defense there, but he'd be nice to have around in case Pat Burrell fails to bounce back from his awful 2009.
The other Florida team has also displayed some interest, though the Marlins would view him as a fallback to Logan Morrison or Gaby Sanchez at first base. The Red Sox weighed Branyan and may consider Blalock as well on a minor league deal. However, he'd only be a candidate to make that team if a Mike Lowell trade gets done. I think the White Sox make more sense. Andruw Jones is currently their best option at DH.