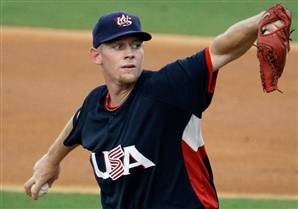 According to the Washington Post, Nationals manager Jim Riggleman hinted Sunday that Stephen Strasburg is likely to begin the 2010 season in the minor leagues.
The 2009 No. 1 overall pick threw his first bullpen session of the spring on Sunday.  He delivered 37 pitches, mostly fastballs, and apparently looked pretty sharp.  But, no matter how great he may look this spring, the Nats want to respect the process.  
"I wouldn't really want to say that he's competing for a spot in the rotation," Riggleman said shortly after the workout.  "I think we're open-minded, but… he could pitch real well down here, but we still might feel like the development, the process is to be respected of going through the system and getting really used to the rigors of throwing every fifth day [in the minor leagues]."
Strasburg will get the call sooner than later, and perhaps right around the time Chien-Ming Wang (shoulder) is ready to contribute.  The arrival of that duo should make for a nice midseason boost in Washington.