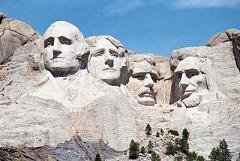 The whole "Mount Rushmore" thing is a bit played out, but that doesn't mean it isn't fun. Yesterday 'Duk at Big League Stew opened up the floor for baseball managers, wondering which for guys you'd include if they were building a managing Mount Rushmore.
My first answer is to punt to Chris Jaffe, who just wrote the best and most comprehensive book about managers you'll ever read. Jaffe, commenting in a thread over at Baseball Think Factory says that it should be John McGraw, Joe McCarthy, Bill McKechnie, and Tony La Russa.
Hard to argue with that list. McGraw and McCarthy were among the most successful managers ever (though McCarthy was dealt an outrageously good hand with the Yankees and screwed up major while managing the Red Sox). McKechnie isn't well known these days, but he may have been a better manager than either of the other two. He certainly had less to work with than they did. I don't like La Russa that much, but I appreciate his skills and legacy. If you have to have a modern guy on there he probably deserves to edge out Bobby Cox if for no other reason than he has been more influential than Cox. Joe Torre obviously belongs in that conversation too.
Still, you're leaving a lot of deserving guys off.  Casey Stengel for one. Earl Weaver. Sparky Anderson. Connie Mack. Maybe you have to make two Rushmores, one for pre-war and one for post-war.  Maybe it breaks down with McGraw, McKechnie, McCarthy and Mack on one, and Stengel, Weaver, Anderson and La Russa on the other.  Even better: make it a "Last Supper" instead of a Mount Rushmore. Then you can put in whoever you'd like.
Just don't ask me who gets to be Jesus.